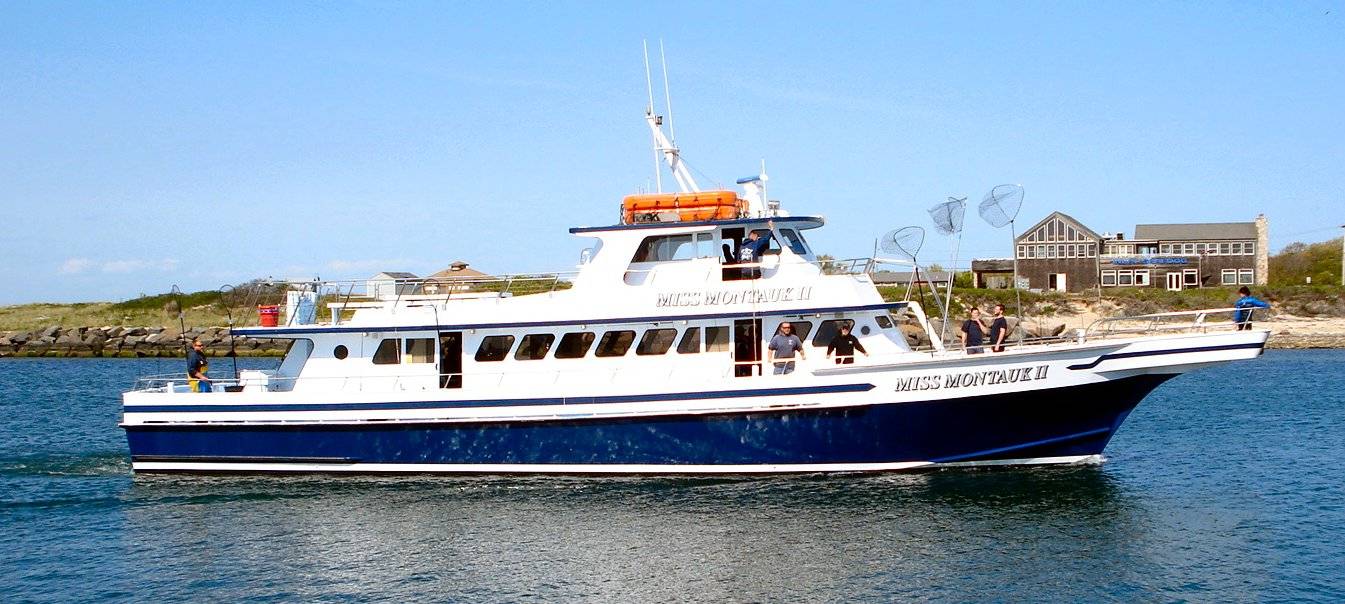 About The Boat
Our 85' Lydia Yacht ~ Miss Montauk II is fully outfitted for open boat Montauk Fishing. She is Coast Guard Licensed for up to 108 passengers and has 111 rod holders. The Miss Montauk II is a big, quick, clean, comfortable boat. There is plenty of seating & tables in the cabin as well as a very spacious deck with seating around the outside of the cabin. The upper deck also has plenty of seating. There are separate Men's and Women's bathrooms.
At the Miss Montauk II, our highest priority is satisfied customers. You are important to us and you can expect us to go the extra mile for your business. Superior customer service is the hallmark of the Miss Montauk II. We are proud to serve you and work hard to earn your business.
Included FREE of Charge:
Waterside Parking
Bait
Tackle

We gladly accept CASH, VISA or MasterCard.
About The Captian
Captain Jamie Quaresimo grew up as a bayman on the Great South Bay. He then became involved in party boat fishing when he started as a mate and later became a Captain on the Susan Ann (out of Captree). Capt. Jamie then began his move to the East. He first took a spot as Capt. on the Rosie, out of Center Moriches. Next Capt. Jamie became a partner on the Marlin VI and then the Marlin VI Princess out of Montauk, but he knew that he wasn't done yet.

Capt. Jamie and his wife Sharon started and ran the 65' Miss Montauk until 2015, when they got the 85' Miss Montauk II. Their sons Captain Anthony and Captain Tyler have been raised on the water and are excellent fishermen as well.
Capt. Jamie and his family look forward to lots more great fishing and they all hope you'll join them soon.
About The Crew
The mates are here to help you enjoy your day of fishing. When you step onto a clean boat in the morning it's because the mates took their time to clean the boat from the prior trip. They will help you on board, tie your rigs if need be and let you know what rigs are working best.
Netting / gaffing are a big part of what the mates do during the day. Filleting or scaling and gutting your catch is done at your request.
The mates do a lot throughout the day to make sure you have an enjoyable time and it is customary to tip the mates around 20%.
Simple Life ~ Private Charters
Captain Tyler's custom built 42 ft Bruno "Simple Life" is available for private charters, 1 - 6 passengers. Please call for availability.